In a cover story for Rolling Stone, Jann Wenner asks Obama about his support for marriage equality.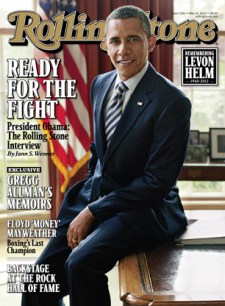 You've shied away from demanding marriage equality for all. Are you at least willing to say that you support it on a personal level?
Replies Obama:
I'm not going to make news in this publication. I've made clear that the issue of fairness and justice and equality for the LGBT community is very important to me. And I haven't just talked about it, I've acted on it. You'll recall that the last time you and I had an interview, we were getting beat up about "don't ask, don't tell" in the LGBT community. There was skepticism: "Why's it taking so long? Why doesn't he just do it through executive order?" I described very specifically the process we were going to go through to make sure that there was a buy-in from the military, up and down the chain of command, so that it would be executed in an effective way. And lo and behold, here we are, and it got done.
Ending "don't ask, don't tell" has been the dog that didn't bark. You haven't read a single story about problems in our military as a consequence of the ending of the policy. So whether it's on that, or changing the AIDS travel ban, or hospital visitation rights, or a whole slew of regulations that have made sure that federal workers are treated fairly in the workplace, we've shown the commitment that I have to these issues. And we're going to keep on working in very practical ways to make sure that our gay and lesbian brothers and sisters are treated as what they are — full-fledged members of the American family.
Obama should be praised for those achievements. But until he "makes news" on marriage equality, he'll continue to be pressed to do so.
(h/t paul constant)