The outsourcing of OUT magazine. AOL jobs looks into it.

Mitt Romney spokesman Richard Grenell deletes personal website. Cache.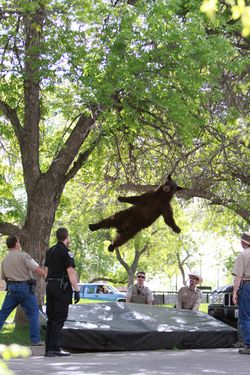 Bear falls from tree, tranquilized.

Glamorous neon purple crab discovered.

San Diego Planning Commission opposes rainbow flag in Hillcrest: "The commission's denial does not prevent the proposal from advancing to the City Council, which is the ultimate decision-maker on land-use issues. It is tentatively scheduled to be taken up by council members on May 15."

Attorney Paul Clement argues both sides of the federalism debate.

Lady Gaga's 'Born This Way' Ball kicks off in Thailand.

High Line co-founder Joshua David gives his thoughts about Chelsea, and the worst thing to happen to the neighborhood: "The closing of the great gay gym, called Chelsea Gym, at 17th Street and 8th Avenue, a paradise of airline stewards, chorus boys, masseurs, freelance-writers (that was me), etc. Every gym in the neighborhood had its nickname. Better Beauties was "Bitter Beauties." American Fitness was "Mary Can You Lift This." Chelsea Gym, for its steam room, was "Gorillas in the Mist." Eighth Avenue is not the same without it. The closing of 18th and 8th, Big Cup, and Bright Food Shop (to be replaced by Qdoba!) were other 8th Avenue tragedies — tragedies!"

More of Brad Pitt's high school yearbook photos.

Jerry: Justin Bieber fans have a name for his male parts. Video.

The man who beat Jeffrey Dahmer to death is shopping a book deal: "TMZ has learned … a rep for Christopher Scarver has reached out to high power book publishers … claiming the 42-year-old wants to explain why he felt compelled to bludgeon Dahmer to death with a broomstick in 1994."

Which celebrities are going to the White House Correspondents Dinner this Saturday night?

Former New York Senator Carl Kruger gets seven months in prison: "Mr. Kruger, 62, was the first defendant to be sentenced in a widespread bribery conspiracy case that originally ensnared eight people, and was seen as offering yet more evidence of the apparently unending wave of corruption in Albany."

Antarctica melting from below…

Taylor Kitsch named Male Star of Tomorrow.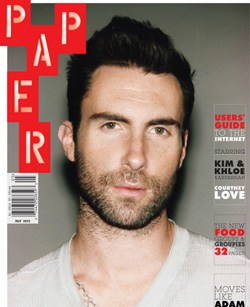 Adam Levine mugs for Paper. "I want to study marriage. I want to learn about it. I want to know it. I want to figure out whether or not I want to do it. I'm not just going to leap into it, because that's not good for anybody."

AFER Advisory Board Member Dolores Huerta to receive Presidential Medal of Freedom: "Dolores Huerta, president of the Dolores Huerta Foundation, co-founded the United Farm Workers of America with Cesar Chavez.  During her more than fifty years of tireless advocacy, Huerta led national efforts to stop the exploitation of farm workers and extend government protections and equal rights."

Iran reportedly executes "gangster" for sodomy: "Speaking with the Iranian Fars News Agency, Gholamhossein Chamansara, the Attorney General of Marwdasht, reported that the death penalty was given to the man – whose exact age is not known – due to his 'despicable/heinous act' that contradicted Sharia Muslim laws."