Change is…

Julianne Moore to play mother in Carrie remake.

One World Trade Center the tallest object in Manhattan sky. "Poking into the sky, the first column of the 100th floor of 1 World Trade Center will bring the tower to a height of 1,271 feet, making it 21 feet higher than the Empire State Building."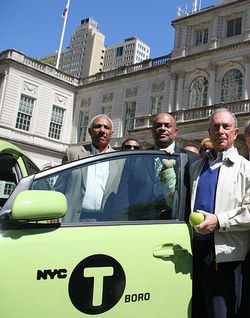 NYC gets 'apple green' taxi fleet.

Mark Wahlberg wearing only an apron and boots.

California Congresswoman Linda Sanchez gets Hollywood support for Social Security Equality Act: "Sánchez's bill, H.R. 4609, would eliminate the Social Security Administration policy denying same-sex couples benefits. According to Sánchez, gay male couples receive 18 percent less in Social Security benefits than straight couples, while lesbian couples receive 31 percent less because women statistically earn less money."

VIDEO: Rihanna's "Where Have You Been?".

Cyndi Lauper to receive honor for LGBT youth advocacy and lobby Capitol Hill: 'I am doing something really important. I am meeting with members of Congress and the Obama administration to discuss ways to better help homeless LGBT youth. I am going to discuss the need for more funding to help runaway and homeless youth, ensuring that LGBT youth experiencing homelessness are not discriminated against in federally funded shelters and other agencies, and that we pass the Reconnecting Youth to Prevent Homelessness Act that Sen. [John] Kerry (D-Mass.) introduced last year. It is my first time visiting Capitol Hill and I am really looking forward to it.''

Chris Hemsworth and Chris Evans promote Avengers juggernaut, which has already taken in more than $200 million overseas.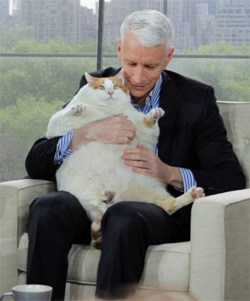 Anderson Cooper and a 39-pound pussy.

Truth Wins Out's Wayne Besen repeatedly confronts anti-gay evangelist Scott Lively in Oklahoma City: "There were 33 people attending his seminar at the suburban Oklahoma City church. My purpose for going was to monitor his talk and confront his lies. This was not easy, because this hardcore fundie church was hostile territory. There was also a police officer on-hand, which made confronting Lively a dicey task. The last thing I needed was to leave the talk in handcuffs, which would have played to Lively's bogus narrative that he is a Christian martyr besieged by homosexuals."

Seventh Day Adventist church in Australia closes down language school for international students, migrants and refugees because its founder publicly supports gay marriage.

Male model fix: Arthur Keller.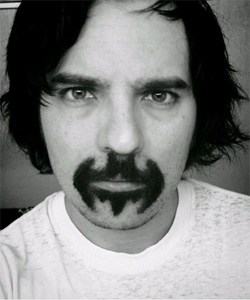 Nana nana nana nana nana nana na – Bat-stache.

Keith Olbermann responds to Jimmy Kimmel jabs at the White House Correspondents Dinner: "Funny that Jimmy Kimmel ripped me after his people desperately wanted me to fly to LA to be on his show this past Wednesday #nerdprom"

Britain's marriage equality ad 'Homecoming' now has more than half a million views.

Activists protest Costa Rican restaurant for tossing out lesbian couple: "Close to 200 protesters marched to the downtown San José restaurant Chelles to demonstrate against ownership for throwing out a lesbian couple. On March 14 at 1 a.m., 10 friends arrived at the 102-year-old Chelles diner. When two women in the group kissed, management cancelled their orders and forced the couple to leave, said Paulina Torres, one of the women removed from the restaurant."