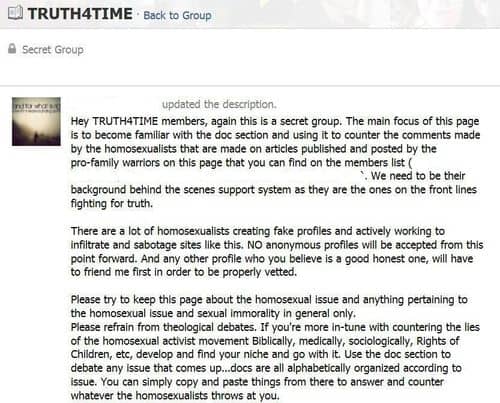 A Facebook group called Truth4Time whose members include "a Fox News pundit, former employees of Concerned Women for America and The Family Research Council, a prominent member of the American Family Association, long term anti-gay activists, prominent members of the so-called 'ex-gay' movement, a member of a state legislature, college professors from right-wing universities, amembers of a prominent anti-gay marriage equality group, and various religious right talking heads who us bloggers have had to refute many times in the past" is plotting ongoing cyber attacks on the LGBT community and organizes efforts to troll specific pro-gay websites, according to Alvin McEwen at Holy Bullies and Headless Monsters.
Writes McEwen:
Truth4Time is supposed to be a library of anti-gay articles, blogs, and other materials for its members to use in their fight against the supposed "gay agenda." Apparently the group has a large lists of documents which contains anti-gay information (i.e. propaganda) that members are invited to use. The founder says that the group is supposed to be a sort of a "behind the scenes support system for the religious right. He seems to think that he is on some type of divine mission.
A member of the group supplied McEwen with information about its members and warns of "a plan to bombard physicians and school boards with negative and distorted information about the gay community" and "flagging Facebook pro-gay pages multiple times with the intent on getting these pages removed."
More info at his site.
UPDATE: Shortly after being exposed, the group apparently disbanded.