America's Catholic nuns are getting too out-of-control progressive for Rome, the WaPo reports: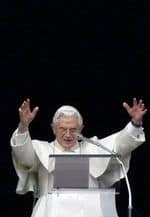 The Vatican has launched a crackdown on the umbrella group that represents most of America's 55,000 Catholic nuns, saying that the group was not speaking out strongly enough against gay marriage, abortion and women's ordination.
The Vatican called "inadequate" an explanation from the Leadership Conference of Women Religious (LCWR) that it did "not knowingly invite speakers who take a stand against a teaching of the church when it has been declared as authoritative teaching," and suggested that the nuns are not loud enough on opposition to abortion, homosexuality, and gay marriage:
The Vatican announcement said that "while there has been a great deal of work on the part of LCWR promoting issues of social justice in harmony with the church's social doctrine, it is silent on the right to life from conception to natural death."
It added that "crucial" issues like "the church's biblical view of family life and human sexuality, are not part of the LCWR agenda in a way that promotes church teaching. Moreover, occasional public statements by the LCWR that disagree with or challenge positions taken by the bishops, who are the church's authentic teachers of faith and morals, are not compatible with its purpose."
The NYT adds:
Word of the Vatican's action took the group completely by surprise, Sister Sanders said. She said that the group's leaders were in Rome on Wednesday for what they thought was a routine annual visit to the Vatican when they were informed of the outcome of the investigation, which began in 2008.
"I'm stunned," said Sister Simone Campbell, executive director of Network, a Catholic social justice lobby founded by sisters. Her group was also cited in the Vatican document, along with the Leadership Conference, for focusing its work too much on poverty and economic injustice, while keeping "silent" on abortion and same-sex marriage.