L.A.'s Abbey Bar bans bachelorette parties: "Every Friday and Saturday night, we're flooded with requests from straight girls in penis hats who want to ogle our go-gos, dance with the gays and celebrate their pending nuptials. They are completely unaware that the people around them are legally prohibited from getting married."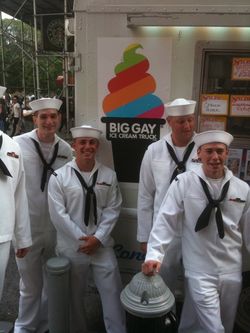 LGBT sailors urged to come out for Fleet Week: "For the first Fleet Week since Don't Ask, Don't Tell was repealed, New York's gay nightlife scene is encouraging men and women in uniform to come out. Bars and hotels have set up Fleet Week-themed specials and planned a host of parties to attract gay servicemembers for their first open Fleet Week in the celebration's 25-year history."

Here's one way to get a treat.

American Idol winner Phillip Phillips prepares for kidney surgery.

First photos from Madonna's MDNA tour.

European Union denounces violence at Ukrainian Pride parade: "In statement on Thursday, EU Foreign Policy Chief Catherine Ashton voiced her deep concerns over the violence unleashed by a group of ultra-conservative youths during the 'Kyiv Pride.'"

First video of Britney Spears at X-Factor auditions.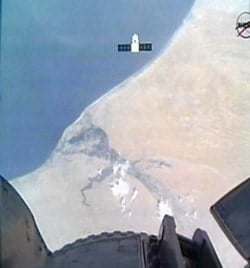 SpaceX rocket docks with ISS.

Elton John hospitalized for respiratory infection: "Elton checked into Cedars-Sinai Hospital in L.A. at 6 AM Wednesday.  John underwent a battery of tests, after which the doctors recommended that he NOT perform for 7 days.  He was told he needed 'complete rest and antibiotic treatment to prevent damage.'"

Homophobia rampant in Eurovision Song Contest host country Azerbaijan: "part from a cruising area in the city center, there are no official meeting places, events or organizations. Some prominent homosexuals are open about their sexual orientation, but most gay and lesbians remain firmly in the closet."

Police charge suspect with murder of Etan Patz in 1979.

Hotel workers union UNITE HERE may picket Intermational Mr. Leather competition in Chicago: "The Hyatt Regency Chicago, site of the recent competitions, has been at the center of a bitter a contract fight with workers represented by the union UNITE HERE since 2009. The workers, union spokeswoman Annemarie Strassel said, want one room per day subtracted from their quota to compensate for the fact that they have to get down on their hands and knees to clean floors, rather than using a long-handled mop. They also want better job security."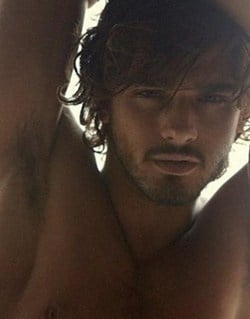 Marlon Teixeira smolders.

Brazil Senate panel advances civil union bill: "The country's human rights committee yesterday approved a measure to change the law regarding civil unions – the new bill classes a 'union' as a contract between two people in a 'continuous and long-lasting' relationship, established with the aim of starting a family, regardless of gender."

Bushmeat: Concerns over the next HIV.

Welsh gay couple wins £1million Euromillions jackpot: "It's an overwhelming feeling. Ian and I already feel lucky as we have a nice lifestyle and we've had the chance to travel the world together."

Manitoba moves to protect trans people: "Changes to Manitoba's Human Rights Code would ensure Manitobans are further protected from discrimination based on gender identity and disadvantaged social status, while improving the process by which complaints are addressed, Justice Minister Andrew Swan announced today, after introducing the amendments. 'Manitoba's human rights legislation was ahead of its time 25 years ago when protection from discrimination based on sexual orientation was added to the code,' said Swan.  'These changes will build on that legacy and ensure the commission has the tools it needs to effectively address current and emerging challenges.'"