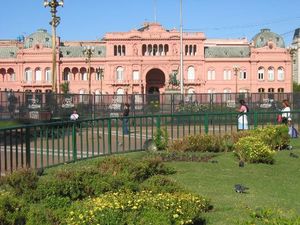 Last Wednesday, the Argentinian senate voted 55-0 in favor of a law which allows individuals to change their legal gender simply because they want to. Again, that's 55-0 for. No dissent. This makes Argentina the most trans-friendly country in the world.
In the United States and Europe, transgender people must submit to physical and mental health exams and get past a series of other hurdles before getting sex-change treatments.

Argentina's law … is the first to give citizens the right to change their legal gender without first changing their bodies, said Justus Eisfeld, co-director of Global Action for Trans Equality in New York.

"The fact that there are no medical requirements at all — no surgery, no hormone treatment and no diagnosis — is a real game changer and completely unique in the world. It is light years ahead of the vast majority of countries, including the U.S., and significantly ahead of even the most advanced countries," said Eisfeld, who researched the laws of the 47 countries for the Council of Europe's human rights commission.
Argentina legalized same-sex marriage two years ago, and predictably the still-large Catholic Church in Argentina is unhappy with the country's liberal drift. From the AP:
"The Argentine lawmakers are introducing profound changes in society that don't respond to any social demand and without taking into account the real consequences," Nicolas Lafferriere, who directs the church-sponsored Center for Bioethics, Personhood and Family, complained Thursday in "Religious Values," an online publication sponsored by the archbishop of Buenos Aires.

We have found ourselves faced with the most permissive law in the world in this area. Now, to change all the civil registries you don't need any more justification than a personal desire, based on someone's self-perception. It won't be easy to predict the consequences." Lafferriere warned.
But:
… fewer and fewer Argentines regularly attend Mass, and priests and bishops don't have the same power of the pulpit anymore … The Catholic hierarchy also has been inexorably linked with the military junta that killed as many as 30,000 people during the dictatorship. Both enforced conservative social values at the time.
… which has had a predictably withering effect on the Church's political power. That number again: 55-0.