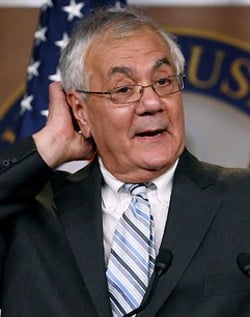 Congressman Barney Frank made history in 1987 when he came out of the closet, making him the first sitting lawmaker ever to be honest about his homosexuality.
Now, 25-years later and as Frank prepares to retire, the Democratic Congressional Campaign Committee is hosting a fundraiser to celebrate Frank's groundbreaking move.
"Barney is an inspiration to all of us as one of the first openly gay Congressmen to serve in the House," openly gay Rep. Jared Polis said in a letter for the event. In addition to honoring Frank, the fundraiser will also include tributes to House Minority Nancy Pelosi and DCCC leader Steve Israel, USA Today reports.
Frank, I'm sure, never imagined in 1987 that his colleagues would be toasting him in such a high-profile way, and making money from it, too.