Seven years old!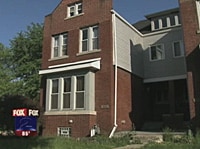 Authorities and media in Detroit are incredulous that a boy so young could have taken his own life over bullying, but that appears to be the tragic case, the Detroit Free Press reports:
Detroit Police Chief Ralph Godbee Jr. said Thursday, calling the situation "unfathomable."
He said the department is investigating the child's death, but as of Thursday afternoon, it appeared the situation is "exactly as presented" — a suicide.
The boy was found by his 14-year-old sister hanging from a bunk bed with a belt around his neck.
The 7-year-old, whom the Free Press is not naming, had been depressed about being bullied by other kids at school and in his neighborhood, and about his parents' recent separation, the boy's mother told police, according to the report.
Adds the Free Press:
The boy's mother told police she forced her way into the room where her son was by removing the door knob, grabbed her son and held him up while a neighbor removed the belt from around his neck, a report says. The boy was then placed on his mother's bed, but a 911 operator said to move him to the floor, a report says.
The boy's mother told police she had last seen her son alive at 4 p.m. Wednesday, when she left to go talk to the family's pastor about the child's depression, according to the report.
The mother told police that her son "had been depressed due to her recent separation from his father; the fact that he had been bullied continuously by the children at school, in addition to the constant teasing that he had endured because he was the only boy in the home of eight females," a report says.
A MyFOX Detroit report, AFTER THE JUMP…
Detroit Boy, 7, Dies in Apparent Suicide: MyFoxDETROIT.com