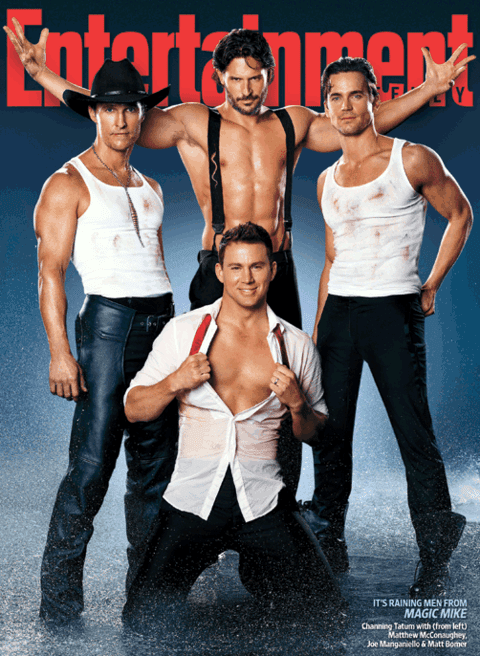 Magic Mike, the Steven Soderbergh-directed flick about male strippers, comes out in a little over a month and Entertainment Weekly is celebrating with a very special cover.
On the front there's star Channing Tatum, himself a former stripper, and behind two flaps you'll find the rest of the cast: Matthew McConaughey, Joe Manganiello and openly gay Matt Bomer.
I've included the special GIF and some screenshots from behind-the-scenes AFTER THE JUMP…
Meanwhile, McConaughey is doing his PR part with an interview with The Advocate in which he speaks about first realizing he had a large gay audience.
At what point did you become aware of your gay audience?

I know exactly when. It was about 1995, I go into a coffee shop on Santa Monica Boulevard, and the guy behind the counter has a picture of me from Boys on the Side taped to the tip jar. Is that not classic? I gave that guy a big tip.

What does that support mean to you?

It's much appreciated. You know, I have some good friends of my own who happen to be gay, and when it comes to gay, straight, or whatever, I'm for anything life-affirmative. I'm for gay power, straight power, male power, female power; everybody should feel empowered without oppressing anyone who's different. You know those World Cup banners about tolerance? I always thought that was one short. No, don't just tolerate me. Understand and accept me.
Check out the special Entertainment Weekly cover in action AFTER THE JUMP.