Malawi's new President Joyce Banda says she will take steps to alleviate oppression of gays and lesbians in that country, vowing to repeal a ban on homosexual acts, the AP reports: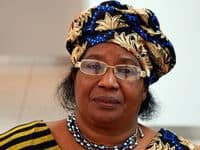 President Joyce Banda's announcement during her first state of the nation address Friday is one of several steps she has taken that break with the administration of her predecessor, Bingu wa Mutharika, who died in office in April.
Malawi had faced international condemnation for the conviction and 14-year prison sentences given to two men in 2010, who had been arrested after celebrating their engagement and were charged with unnatural acts and gross indecency.
In 2010, Mutharika officially pardoned Steven Monjeza and Tiwonge Chimbalanga, the gay couple who had been sentenced to 14 years of hard labor under sodomy and indecency laws. You may remember that they were originally arrested after holding a public wedding ceremony in December 2009.