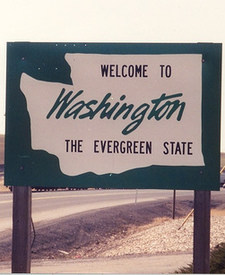 Gay marriage opponents looking to overturn that state's marriage equality law claim they have collected enough signatures to get their measure on this November's ballot:
Joseph Backholm, with Preserve Marriage Washington, said that the campaign for Referendum 74 has at least 150,000 signatures on hand. Backers of R-74 need to turn in 120,577 valid voter signatures by next Wednesday in order to qualify for the ballot. The secretary of state's office recommends that campaigns submit about 150,000 signatures in order to provide a cushion for invalid or duplicate signatures.   

"We feel that it's going to be adequate to get it on the ballot," he said. "We're quite confident of that."   
As we saw this morning, though, most Washington voters want to keep the equality law in place, and the pro-LGBT group Washington United for Marriage is ready for a campaign fight.
"We always expected [opponents] to reach the number," said group spokesman Zach Silk "We've been preparing our campaign to talk to voters. We believe at the end of the day they'll side with us to uphold the law."
Silk also says his group has about $714,000 in the bank to maintain same-sex marriage. Preserve Marriage, in contrast, only has about $43,000.