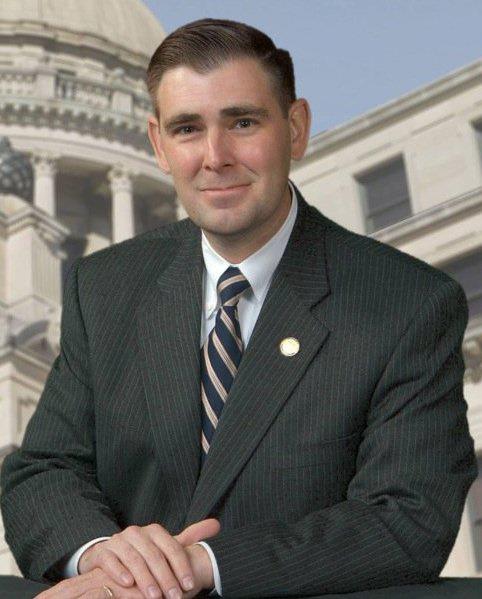 Mississippi state Representative Andy Gipson attacked gays on his Facebook page following Obama's endorsement of same-sex marriage earlier this week, Unity MS reports.
Wrote Gipson in a Facebook post:
Been a lot of press on Obama's opinion on "homosexual marriage." The only opinion that counts is God's: see Romans 1:26-28 and Leviticus 20:13. Anyway you slice it, it is sin. Not to mention horrific social policy.

The Leviticus passage is the one suggesting that gay people be put to death.
He followed that up with a clarification to a commenter in the same thread:
Sorry I've been busy and not had a chance to reply. David, in addition to the basic principal that it is morally wrong, here are three social reasons it's horrific social policy: 1) Unnatural behavior which results in disease, not the least of which is its high association with the development and spread of HIV/AIDS; 2) Confusing behavior which is harmful to children who have a deep need to understand the proper role of men and women in society and the important differences between men and women, and fathers and mothers; and 3) Undermines the longstanding definition of marriage as between one man and one woman, a definition which has been key to all aspects of social order and prosperity. Anytime that definition is weakened our culture is also weakened. And yes, that is also true for other conduct which weakens marriage's importance in society.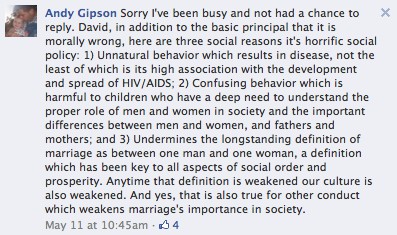 Writes Unity MS, where you can find Gipson's contact information: "Mr. Gipson needs to realize he represents all of his constituents. He should not cherry-pick which constituents he wants to work for. He should also realize his positions are neither popular nor Republican. LGBT individuals, couples, and families help pay Gipson's salary. It's important that he remember that."