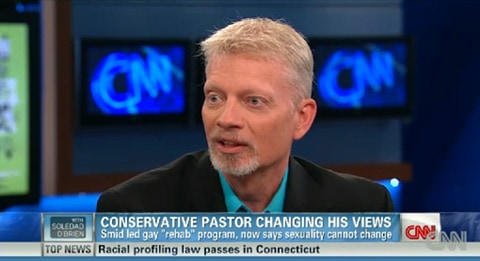 Those of you who have been reading Towleroad since 2005 may remember the story of Zach, a gay teen who cried out for help on MySpace after being sent by his parents to the Tennessee-based "Love in Action" ministry for gay 'reparative therapy'. Love in Action was run by John Smid, who came out of the closet in 2011 and now says gays cannot change their sexuality. He has since left his position.
Now there's a new documentary from filmmaker Morgan John Fox called This is What Love in Action Looks Like (I've written about it a few times as well) which features a look at Love in Action and Smid's story.
Fox and Smid appeared on Starting Point with Soledad O'Brien this morning to discuss the film.
Watch it, along with the film's trailer, AFTER THE JUMP…
In related news, if you have SiriusXM, Michelangelo Signorile will be talking to Smid on his Sirius OutQ show today at 3:30 pm.
Here's the trailer for the documentary: