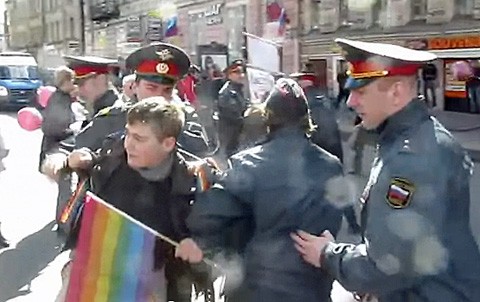 Seventeen activists have been arrested in a May Day civil rights and freedom march, Coming Out St. Petersburg reports:
This year's May 1st march is a peaceful demonstration, permitted by the city administration. LGBT activists were marching as part of a larger "democratic" column, consisting of various democratic and civil society groups of St. Petersburg. 5 minutes into the march, police requested removal of rainbow flags. When activists refused, they were forcefully detained and are now facing charges of "propaganda of homosexuality" and non-compliance with the police. One activist was detained for holding a sign "homophobia is illegal."
17 activists are still being held by the police. Among those detained are Igor Kochetkov, chairman of the Russian LGBT Network, Mikhail Belodedov of Coming Out, Sergey Kondrashov, lawyer and straight ally, and Elena Popova, director of St. Petersburg organization "Soldier's mothers", defending rights of draftees.
Video of the scuffle and detentions which I located on YouTube, AFTER THE JUMP…
The recently-passed so-called "gay propaganda" law which bars (and imposes fines for) gay groups, gay books and periodicals, LGBT Pride events, and other "promotion" of homosexuality, is being considered in Moscow, and federally.