The Ronald Reagan Presidential Foundation & Library is upset over a British auction house's sale of a vial of President Ronald Reagan's blood, allegedly collected after the assassination attempt against him in 1981: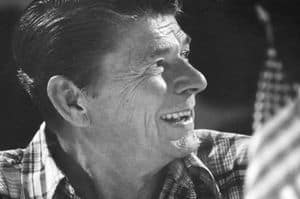 PFC Auctions listed a high bid of more than $9,900 late Monday, with final offers being accepted online through Thursday. The website says the "dried blood residue from President Reagan (1911-2004) can be seen clearly in the vial with a quarter-inch ring of blood residue at the end of the inserted rubber stopper."
The president's blood was supposedly gathered in 1981, following the assassination attempt on his life outside of a Washington, D.C., hotel. He was sent to George Washington University Hospital, where doctors tended to a gunshot wound and punctured lung.
The auction website notes that the paperwork included with the vial incorrectly states Reagan's birthdate as "2/02/11," when it was actually Feb. 6, 1911. The vial is dated "3/30/81" — the day of the assassination attempt.
The vial was reportedly obtained from a man who's mom worked at the lab.
Said John Heubusch, executive director of the Library: "If indeed this story is true, it's a craven act and we will use every legal means to stop its sale or purchase."