The Boy Scouts have agreed to consider a resolution submitted by a Scout leader from the Northeast in April and presented at the BSA's annual meeting last week in Orlando that would allow individual troops to accept gay people as scout leaders, the AP reports: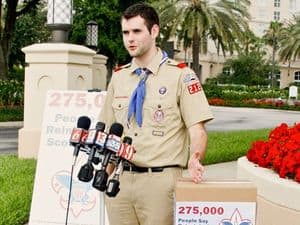 BSA spokesman Deron Smith said Wednesday it would be referred to a subcommittee, which will then make a recommendation to the national executive board. The process would likely be completed by May 2013, according to Smith, who said there were no plans at this time to change the policy.
The announcement comes following last week's delivery of 275,000 petitions calling on the organization to lift its ban on gay people which were delivered by Eagle scout Zach Wahls on behalf of Jennifer Tyrrell a lesbian Ohio den mother who was ousted from her job last month.
Wahls, in a telephone interview, said he and his allies planned a campaign to mobilize opposition to the gay-exclusion policy from within Scout ranks, with the goal of building pressure for the resolution to be approved.
"Up to the day they end this policy, they'll be saying they have no plans to do so," Wahls said. "But there's no question it's costing the Boy Scouts in terms of membership and public support."
Wahls made a statement in a release from GLAAD:
"Last Wednesday I delivered 275,000 petition signatures — including the signatures of thousands of scouts and scout leaders — to the Boy Scouts of America because I love the organization and I refuse to stand by idly as it forfeits its cultural relevancy at the very moment this country needs it most," said Wahls. "In proposing to allow local charter organizations to decide whether or not they'll include gay youth and leaders within their ranks, the Boy Scouts of America has taken an historic step forward, and I applaud their bravery in doing so."
Wahls met with the Boy Scouts of America's Public Relations Director, Deron Smith, and other top-ranking Boy Scout officials who asked not to be named after delivering the 275,000 petition signatures to the organization's annual national meeting last Wednesday.
"As both an Eagle Scout with a personal investment in the success of the Boy Scouts of America and as the son of a lesbian couple, it means a lot to see this change finally set in motion," added Wahls.