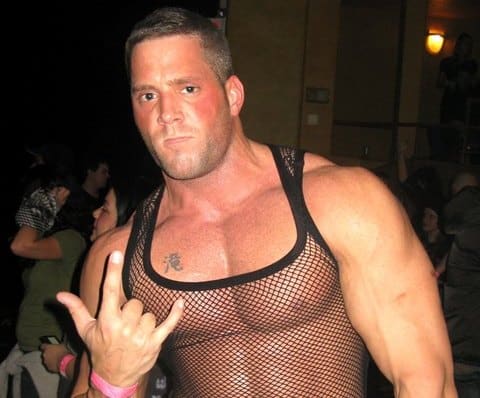 People within the porn industry and beyond are today mourning the death of 30-year old adult film star Erik Rhodes. Rhodes, known for flexing his enormous muscles for Falcon and then Raging Stallion studios, died of a heart attack that appears to have been caused by his regular steroid use.
According to FrontiersLA, Rhodes was in a dark place before his death, and posted the following message on his Tumblr:

Fans and friends are remembering Rhodes less for his private life and more for his public persona. "[We] were incredibly saddened to learn of the death of our friend, adult-film star Erik Rhodes," wrote PAPER magazine's Mickey Boardman. "The 30-year-old Long Island-native was a truly hilarious and larger-than-life character as well-known for his wicked sense of humor as he was for his enormous muscles."
Porn blogger Jason Sechrest said that if Rhodes had a heart attack "it was because his heart was just too damned big." "He saw every person as being far better than he and was gracious to every fan who approached him in a bar, at the airport or on the street," Sechrest wrote on his (work-unfriendly) website.
Falcon Studios also praised Rhodes' sparking personality, writing in a statement, "[Erik] was a genuine and caring man with extraordinary attractiveness and a massive muscled frame. Erik was an equally beautiful human being who lit up a room, and brought fun and joy to our studio and his fans that was unparalleled. He was a giving person with a special wit…"