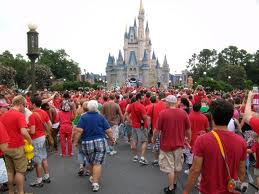 Today's the second-to-last day of Gay Days in Orlando, and despite the best efforts of the Florida Family Association, people seem to be enjoying themselves.
That includes Orlandian business people, who will make a mind-numbing amount of money off Gay Days' red-shirted revelers this year.
From Orlando's CFNews13:
A sea of red shirts took over Walt Disney World's Main Street to celebrate Gay Days.

Travel groups say the more red you see, the more green the city makes.

People keep coming back year after year. Drew Ladochi and his friends travelled from Chicago and a few years ago he decided he loved Orlando so much he bought a time share here.

"We've been partying all weekend and now it's Magic Kingdom today and Epcot tomorrow," Ladochi said.

The "Gay Days" events are not put on by the theme parks but the people are welcomed along with anyone else who wants to visit. Orlando Gay Travel.com estimates the theme parks make more than $13 million this weekend alone.
The estimate could be conservative. According to CFNews, Gay Days' organizers guess their celebration brings up to 150,000 people to town, who spend the great bulk of their money at the local theme parks.
Orlando's tourism bureau, Visit Orlando, this year began promoting Gay Days for the first time after ignoring the event for two decades. The years-long snubbing is understandable, Central Florida being historically gay-unfriendly, and might have continued indefinitely if the gays didn't bring so much money to town. The Orlando Sentinel has published a story on the bureau's evolution, which now seeks to target LGBT visitors year-round:
For the first time in its history, the publicly subsidized convention-and-visitors bureau has a page on its website targeting lesbian, gay, bisexual and transgender visitors. It is working with a gay-oriented marketing agency to attract more German tourists, and it recently spent $3,500 on a national print advertisement aimed at the LGBT market, in cooperation with other tourism-promotion groups.

"We have continued to grow our presence in that market," said Danielle Courtenay, Visit Orlando's chief marketing officer. "It is certainly a market out there that Orlando can continue to benefit from."

… Visit Orlando, which gets the majority of its funds from Orange County government, has kept the gay market at arm's length even though Orlando hosts one of gay travel's biggest and most successful events: Gay Days. The weeklong festival, founded in Orlando two decades ago, has done more than perhaps anything else to put the nation's theme-park capital on the gay-travel map.

… Former Orange County Commissioner Linda Stewart said she agrees … [that the] visitor's bureau has not done enough to go after the LGBT market. But Stewart said she senses change is coming.

"They are starting to see the dollar signs and the need to be more involved, both internationally and nationally," she said. "This should have been done long ago."
The arc of history is long, but it bends towards … profit?