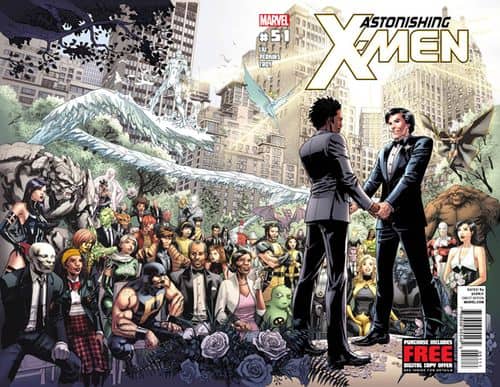 Some comic fans are so inspired and thrilled by gay X-Man Northstar's marriage to his boyfriend that they're using the occasion either renew their own vows or tie some fresh knots. Unfortunately, not all the nuptials will be recognized.
Via Bleeding Cool:
Collectors Corner in Baltimore, familiar to Bleeding Cool readers, are celebrating their own gay wedding as two longtime customers renew their vows for an event in-store to celebrate the release of Astonishing X-Men #51.

Midtown Comics are hosting a private same sex wedding in their Downtown store in Manhattan

And MaximuM Comics of Las Vegas and Henderson, Nevada are taking it all one step further, featuring five gay couples in one store and six in another getting a "commitment ceremony", as gay marriage is not legal under state law, though it does now allow same sex unions.

The staff at both shops will be fully tuxedoed, wedding cakes, flowers and gift bags are on the way, with money raised going to AFAN Aid for AIDS NV.
Marvel's evidently quite confident Astonishing X-Men #51 will be a hit: they're releasing it one day earlier than the rest of the titles due next week.
You can see the first few pages HERE.