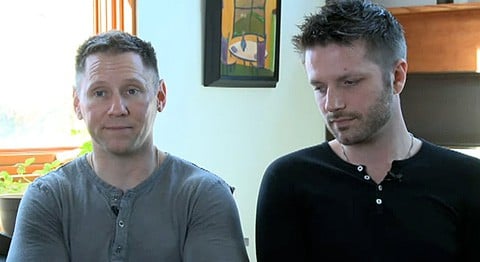 Stephen Hill and his husband Josh Snyder are featured in a new video from SLDN for their Freedom to Serve, Freedom to Marry campaign, the organization reports:
Hill – who drew national support when he was booed during a Republican presidential debate after asking a question via video regarding repeal of "Don't Ask, Don't Tell" (DADT) – recently returned from a deployment to the Middle East.
 
"Steve's deployment brought home to us the stark realities that gay and lesbian families face because of the Defense of Marriage Act.  If something happened to me, Steve would not have been able to take emergency leave, because the military cannot recognize our relationship.  If something terrible happened to him, I would not be considered the next-of-kin.  Service members and their families making the kind of sacrifices that are required to serve this country shouldn't be treated as second-class citizens and their marriages shouldn't be treated as second-class marriages," said Snyder. 
 
Hill and Snyder are also plaintiffs in landmark litigation filed in October 2011 by SLDN on behalf of eight married gay and lesbian service members and veterans challenging DOMA and other federal statutes that are being used to prevent the military from providing the same protections and support to all families. For more information on the case, click here.
 
"This lawsuit is about one thing, plain and simple.  It's about equal recognition, respect, and support for all service members and their families who put their lives on the line to protect our freedoms," said Army veteran and SLDN Executive Director Aubrey Sarvis.
Watch their video, AFTER THE JUMP…