An Indiana University teacher says he was arrested last week after telling Red Cross bloodmobile employees that they were in violation of the school's nondiscrimination policy for prohibiting donations of blood from gay men. The situation escalated, police were called, and the man was placed under arrest and spent a day in jail, he says.
Uri Horesh writes: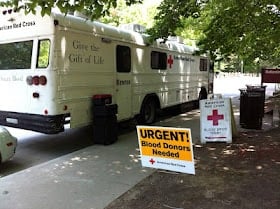 I went in, waited for my turn, had my blood pressure and hemoglobin checked, and proceded to answer a computerized questionnaire. When it was reviewed by the Red Cross employee, I was told that because I answered the question about having had sex with other men the way I did, I would be deferred indefinitely from donating blood.
I, in turn, told her that she was in violation of the Indiana University nondiscrimination policy, which, among others, prohibits banning any person from participating in university activities on the basis of sexual orientation. She called another Red Cross employee, who in turn called another Red Cross employee, who in turn called Indiana University Police.
Two police officers arrived at the bloodmobile, refusing to listen to anything I had to say. They grabbed me, refused to read me my rights under Miranda, even when I explicitly asked them to (they eventually did, after I was handcuffed and placed in the police car), and only told me I was under arrest after I asked them whether I was.
I later learned from one of the officers that one of the Red Cross employees (he referred to her as a "nurse") accused me of spitting at her. That is a false accusation. But in the State of Indiana, spitting at someone is considered "battery," and the mere charge of battery warrants placing the person arrested for that charge in custody for 24 hours.