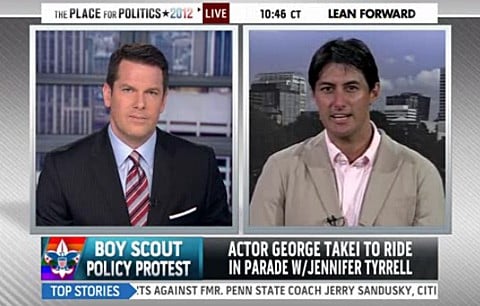 Today on MSNBC, Thomas Roberts spoke with Naka Nathaniel, an Eagle Scout who has renounced his rank over the Boy Scouts of America's anti-gay policies.
Watch Roberts' interview, AFTER THE JUMP…
Wrote Nathaniel in a Daily Beast article over the weekend:
When I earned my Eagle Scout rank 20 years ago, I was proud of my accomplishment. When my little brother earned his Eagle 13 years later, I traveled halfway round the world to attend his court of honor. I was proud of him and my family. My parents had raised two Eagle Scouts.
Today, I'm ashamed to be an Eagle Scout.
I don't want my son to participate in Scouting.
I would rather my son be gay than be an Eagle Scout.
The antigay policies of the Boy Scouts of America have forced me to turn my back on an organization that, along with my parents, I credit for helping me be a good son, a good husband, a good employee, and a good citizen.
Visit msnbc.com for breaking news, world news, and news about the economy