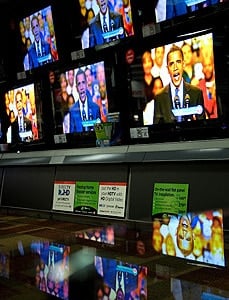 Guess where President Obama found about the health care ruling. Stumped? Cable news. Leaders of the free world — they're just like us!

Anti-gay activist Bill Whatcott is suing Canadian Broadcasting Corporation for libel after the network aired footage of one of his homophobic fliers that read "Kill The Homosexual." He claims it was simply a spoof of a death metal song that said "Kill the Christian."

Will a ballot measure legalizing pot give President Obama a solid win in Colorado come November?

Adele's heartbreak over a bisexual boyfriend who left her for a gay man allegedly inspired her Grammy-winning album 21. Why can't all breakups be so fruitful.

Lourdes does Madonna.

Nagging question: "Who needs feminism?" Um… ladies? Men? Everybody? Nobody?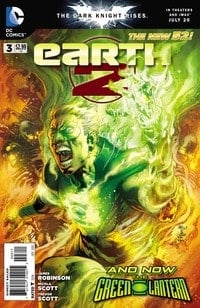 Gay Green Lantern goes off the rails after a train explosion seems to kill his boyfriend in DC Comics' Earth 2 #3.

Singer Corey Hart talks more about re-releasing his song "The Truth Will Set You Free" as a gay pride anthem.

The Defense of Marriage Act creates a labyrinth of tax and real estate laws. The website NerdWallet wants to help cut through the clutter: "This week, financial information website NerdWallet launched a tool to help LGBT partners work through the tangled financial, legal and tax complications implicit in their relationships."

Rightwingers are turning on Chief Justice John Roberts after he supported President Obama's individual mandate philosophy, but they shouldn't be: "If you read the opinions, he sided with the conservative bloc on every major legal question before the court. He voted with the conservatives to say the Commerce Clause did not justify the individual mandate."

From Australia: "Four in ten same-sex couples are Christians, according to a detailed snapshot of the nation's gay community based on the latest census data. Christians represent a smaller proportion of same-sex couples than heterosexual couples, of which more than two-thirds affiliate with the religion."

Shocking news, everybody. Raising children makes same-sex couples just as tired as straight couples, and therefore less energetic for sex: "Researchers at SF State interviewed 48 gay male couples who are raising children together in San Francisco and Salt Lake City. What they found was that these gay parents had similar lifestyle changes as straight parents, specifically they have less time and energy for sex."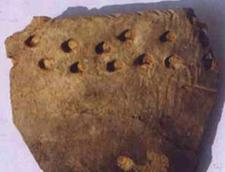 Ancient pottery suggests man started cooking during — and because of — of the ice age.

If you wanna get with Chris Evans, you got love his doggie-loving style.

Los Angeles Times reporter Matt Donnelly on how the late director Nora Ephron helped him grow into the man he is today: "It was me, and Nora in my head, against the world for a while. I finished college when I Feel Bad About My Neck was released, and things had changed. I had a stronger sense of community, not just gay but with my changing and increasingly consistent circle of friends."

Tsk-Tsk: Mila Kunis lied about her age to land a role on That 70s Show.

Does Andrew Garfield have what it takes to be a leading man? That's the $220 million question. ($220 million, naturally, being The Amazing Spider-Man's budget.)