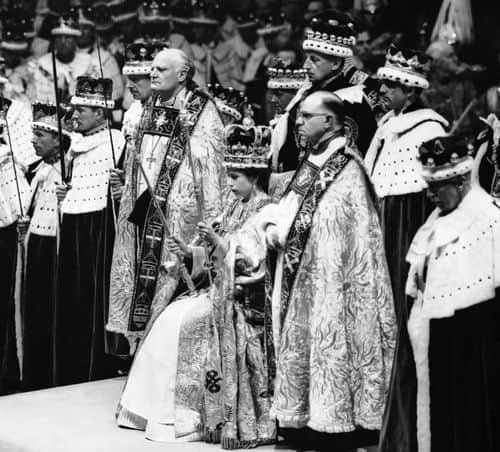 Vids and pics from the Diamond Jubilee.

The New Yorker's 60 years of sassy queen coverage.

Grey's Anatomy, Days of Our Lives among winners at last nights GLAAD Media Awards, in Frisco.

Remember the fellow who's challenging Jonah Goldberg to a boxing match? He's Jamie Kilstein, a comedian, and here's his gay marriage rant. Be aware that the language is a little coarse. (Thanks to FilmTurtle for the link.)

An ideal European getaway for the supervillain in your life.

A fifth grader cuts class; gets pretty awesome exculpatory note.

For these married Mormons, love conquered faith:
"I don't believe in God," my husband whispered in the darkness of our bedroom.

… his confession hung over our nuptial bed. And though I'd known this was coming — he'd been struggling with his faith for at least two years — I'd never considered what I'd say. Sean had always been the rational one, a brilliant computer scientist who spoke sense when I was in the throes of clinical depression. Now, my thoughts went still as I groped for his hand. Before I could process what I was saying, forbidden words slipped off my tongue. "You are more important to me than the Church," I said.

Sci-fi as mental oxygen, from William Gibson:
… When I was five, I was chastised for disagreeing with an Air Force man, a visitor to our home, who made mock of my Willy Ley book. I knew he was wrong when he said that space travel would never happen. And I was right, at least in the relatively short term, just a few years off from Sputnik. I was a native, I felt unquestioningly, of Tomorrow.

But somewhere along the way, during the decade after my argument with the Air Force man, Tomorrow went lowercase. By 1964, when I was negotiating puberty in the chill deeps of the Cold War, history itself had become the Atomic Disintegrator. In those years, I was drawn to science fiction (and mainly to its prose forms) for the evidence it offered of manifold possibilities of otherness. To a curious, anxious, white male child coming of age in an incurious and paranoid white monoculture, there was literally nothing like it—though a great deal of science fiction, possibly the majority of it, I was starting to notice, depicted futuristic monocultures that were dominated by white males. The rest, however, had as much to do with making me the person I am today as anything else did. Things might be different, science fiction told me, and different in literally any way you could imagine, however radical. Simply to know that people who thought that way existed was a game changer for me. Being able to directly access their minds, as a reader, was like discovering an abundant, perpetually replenished, and freely available source of mental oxygen. You bought it from a wire rack in the bus terminal, less than a dollar a shot, and took home Alfred Bester, Fritz Leiber, Theodore Sturgeon, Robert Sheckley, and many others—and then you saw things differently …

It's Jefferson Davis Day in Florida — because that actually is a holiday there — and to celebrate, the governor's purging the voter rolls. Or would be, if the Department of Justice hadn't stopped him.

You know that hideously catchy song from that Heineken commercial? See it in its proper context — in the 1965 Indian hit Gumnaan, given voice by the legendary Mohammed Rafi — AFTER THE JUMP. Seriously, hideously catchy.