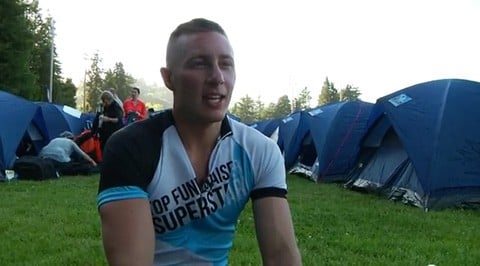 You'll remember Randy Phillips as the gay Airman whose series of pre-DADT repeal videos caused a sensation on YouTube before he revealed himself and came out to his dad in one of them.
Phillips is currently participating in the AIDS/LifeCycle ride from San Francisco to L.A. and spoke with I'm from Driftwood about perceptions about people living with HIV, particularly is own mom:
She couldn't think of any, couldn't relate to another gay person who had had a normal life, who grew up healthy and had a successful life and a career and lived a long life and maybe got married and found somebody and possibly had some kids. She didn't think that's what my life would be like. She thought it would be absolutely a horror story and that I'd die 10 years later alone, a drug addict, from HIV.
And the 20-something generation:
I kind of wanted to parlay what little bit of attention I got from YouTube into something I think is a taboo for our generation. Not very many people in their early 20s like to think about AIDS…We kind of think we have it under control, but we don't. It's still very big and it shouldn't be a taboo. It should be something we talk about and discuss and fundraise for and fight and be active in our communities.
Watch, AFTER THE JUMP…