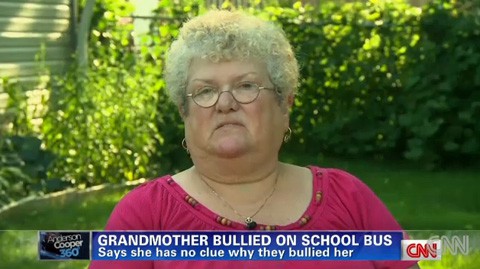 Anderson Cooper last night spoke with Karen Huff Klein, the Rochester-area school bus monitor seen bullied earlier this week by a group of kids in a sickening YouTube video which went viral.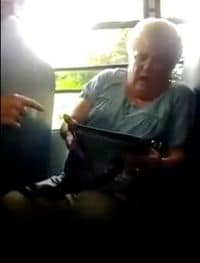 Two of the kids who tormented Klein released statements to AC360. One, named Josh, wrote, "I am so sorry for the way I treated you. When I saw the video I was disgusted and could not believe I did that."
Said Klein: "Of course, he's going to say anything. He's always got this smirk on his face…I don't think I would believe anything Josh would say."
Another, Wesley, said, "I feel really badly about what I did. I wish I had never done those things. If that had happened to someone in my family, like my mother or grandmother, I would be really mad at the people who did that to them."
Klein says that she wants them to never feel as if they can do this again to anyone, to be kept off the bus for a year, and be prohibited from playing any sports, at least for a year. She thinks community service is a pretty good idea too.
Meanwhile, a collection fund to send Klein on a vacation has risen to nearly half a million dollars. Klein doesn't believe the money will ever come to her. "Sounds too good to be true," she says.
Watch, AFTER THE JUMP…