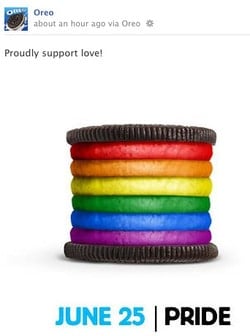 Kraft Foods definitely made a statement when they shared an image of a "gay pride" Oreo earlier this week.
Within 24-hours, the company's Facebook post had 177,000 likes and 22,463 comments. Some of the remarks were of course hateful — "We don't want this unhealthy sinful lifestyle flaunted," one infuriated former Oreo fan tweeted — but by and large the comments have been positive. A supportive Twitter user wrote, "Very glad to support a company like Oreo that joins the campaign for civil rights!"
And amidst conservative calls for an Oreo boycott, the company has apparently won over some new customers. "Don't worry about them people boycotting you Oreo – I never bought a single cookie from you and now I will," a supporter declared.
But what does this ad mean with regard to a more LGBT-inclusive marketplace? Is it simply pandering? That's the question Dan Zak seems to be asking over at the Washington Post:
The rainbow-colored Oreo graphic unveiled for LGBT Pride month proves at least one thing: Gays are just as susceptible to clever marketing as straights. At long last! Equality under commercialization.
…
A cultural moment — galvanized politically by Barack Obama's May endorsement of same-sex marriage — is being validated and exploited economically by big business over and over again. Earlier this month JCPenney, after enduring fringe criticism for enlisting Ellen DeGeneres as a spokeswoman in February, doubled down with a Father's Day advertisment featuring two fathers and their children dressed in sensible shorts and bright-colored polo shirts. Last month Gap put two young gentlemen inside one snug gray T-shirt next to the words "Be One." In March, Ben and Jerry's released an ice cream pint called "Apple-y Ever After" whose container depicted a tuxedoed pair atop a rainbow-ribboned cake.

What's next (besides eternal hellfire)? Probably more gay advertising.
Not that there's anything wrong with that…