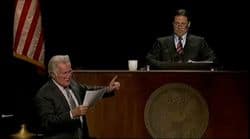 The West Coast performance of Dustin Lance Black's dramatization of the Prop 8 trial will be broadcast to radio this month, the AP reports:
"A recording by L.A. Theatre Works of the March 3 performance in Los Angeles will be broadcast in the coming days on 90.7 KPFK in Southern California, 89.7 WGBH in Boston, 91.5 WBEZ in Chicago, 94.9 KUOW in Seattle, 91.1 KRCB in San Francisco, 89.3 WPFW in Washington, D.C.; and over 100 other markets nationwide. June is Gay Pride Month."
More information on '8' can be found here.