Because of the attention the issue is raising nationally, the Pentagon has agreed to a one-time, historic allowance for military personnel to march in San Diego's Gay Pride Parade in uniform this weekend, the L.A. Times reports: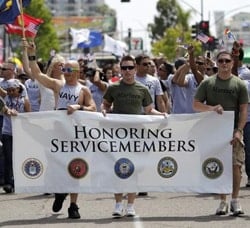 An announcement from the Office of the Deputy Assistant Secretary of Defense said that wearing their uniforms is permitted "provided service members participate in their personal capacity and ensure the adherence to miltary service standards of appearance and wear of the military uniform."
The decision marks the first time that gay personnel will be permitted to wear their uniforms in a gay parade.
Saturday's parade through the Hillcrest neighborhood is San Diego's first gay pride parade since the repeal of the "don't ask, don't tell" rule that prohibited gay military personnel from serving openly.
Last year, upward of 200 active-duty and retired military personnel marched in the parade. Many wore T-shirts with the name of their branch of service.
The allowance is an exception, the AP reports: "The Defense Department says it is making the exception because parade organizers had invited service members to march in uniform and the matter was getting national attention. The Pentagon says the exception is only for this year's parade in San Diego and does not extend beyond that."