Lady Bunny interviews Chick-fil-a satirist and drag queen Willam.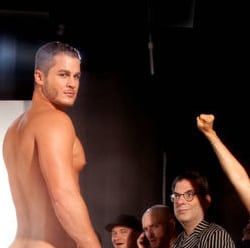 Former A-List-er Austin Armacost takes it off for PETA while Michael Musto looks skeptical.

Jesse Metcalfe shows off his spectacular rack.

Michelangelo Signorile and Andrew Sullivan look at Sally Ride's sexuality, what it means, and the media's attempts to hide it.

Arguments heard in Hawaii same-sex marriage case: "U.S. District Court Judge Alan C. Kay heard lengthy arguments on the merits of the lawsuit by Oahu couple Natasha Jackson and Janin Kleid, who want to be married and not simply enter into a civil union. They say they need to be married in order to get certain federal benefits. Co-plaintiff Gary Bradley wants to be able to marry his foreign national partner to help him change his immigration status, said John D'Amato, who is representing the plaintiffs."

Chick-fil-a removing Bible verses from its Facebook page.

More photos from Christian Bale's visit to Aurora, Colorado.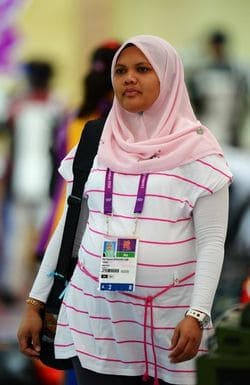 History: "Not only is Nur Suryani Mohamed Taibi the first female Malaysian rifle shooter to compete in Olympic history, she is also eight months pregnant, making her the "most pregnant" woman to ever compete in the Olympics. She's also the only woman with a known/disclosed pregnancy to compete in this year's games."

VIDEO: Hundreds flee Spanish wildfires on foot.

Gawker's Rich Juzwiak describes his first two visits to Fire Island. "I'd never gone before because my parents live in a South Jersey beach town, so paying real money for that experience always seemed silly to me – all is a car and a tank of gas and I have a beach house. Furthermore, my former, nine-and-a-half-year relationship was with someone who hated Fire Island on principle. But now I'm single – and so are a lot of the boys on Fire Island. So, why not?"

Family Research Council publishes memo advising need to "go on offense" to advance the Christian worldview".

Ryan Gosling hits the gym.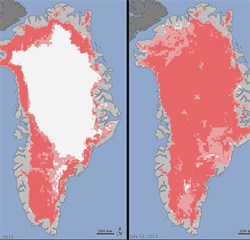 "Heat dome" linked to massive Greenland melting event.

Patricia Heaton: "Met Gov. Romney last nite – excellent human being."

Victory Fund endorses 16 new LGBT state legislative candidates running in North Carolina, New Hampshire, Washington, Rhode Island, Massachusetts, Minnesota, Arizona and Hawaii.

Kerry Kennedy's had Ambien in her blood, crash investigation finds.

Mitch Winehouse remembers his daughter Amy on the first anniversary of her death: "And what did Amy think about the songs she wrote? Well, Amy was always very critical of her own music. But it was more than that with the tracks on Back to Black – some of them she hated, because they reminded her of all of the bad times with Blake. Towards the end they became very difficult for her to sing."