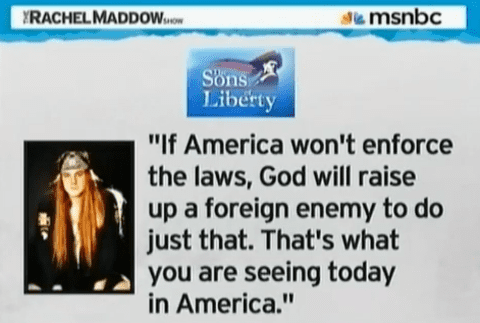 Displaying an amazing amount of chutzpah, anti-gay radio host and Michele Bachmann pal Bradlee Dean last year filed a $50 million lawsuit against Rachel Maddow after the MSNBC host aired remarks he made about Muslim people wanting to kill gay people.
He claims Maddow said he supported such executions, even though she made clear in her discussion that Dean issued a later disclaimer saying he does not "call" for the killing of gay people.
There's no official word on how that lawsuit is progressing, but if news that Dean has been ordered to pay Maddow's legal bills is any indication, it is not going well for the homophobic radio personality.
From the website Bradlee Dean Info, via Joe.My.God:
Memorandum and Order Granting in Part Defendants' Motion for Attorneys' Fees and Denying Plaintiffs' Combined Motions for Reconsideration and Sanctions Entered on the Docket 6/25/12. Signed in chambers 6/25/12. Electronically filed via CaseFileXPress on counsel for the parties 6/25/12. Plaintiffs shall pay to Defendants fees and costs in the amount of $24,625.23 within thirty days.
MSNBC and The Minnesota Independent are also defendants in the suit.
Watch video of Maddow's original report on Dean AFTER THE JUMP.