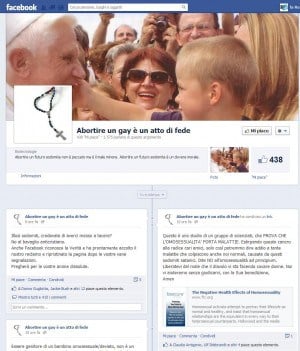 Last week, the Italian internet was briefly galvanized by an anonymous troll with a rather Catholic-looking Facebook page (see right), apparently created to advocate for the abortion of gay fetuses. Yes — gay fetuses, which, claimed the troll, doctors now have the ability to identify with some specificity. The page launched on June 19th, with this exhortation:
Too many people have been misled by the false morality of the sodomites. But now, thanks to the miracle of science, we can prevent this. Yes, it is terrible to abort even the poor children burdened with sodomite genes, but it is the lesser evil. 
(The translation's approximate, but that's the gist.)
The page stuck around, and its author stayed busy. Eventually, if I've got the translation right, it seems the author began to provide fake reports from clinics about the murder of infants — in one case, a report of gay babies who'd been strangled with their umbilical cords. Fake testimonials from fake mothers appeared, including this one:
After my [unborn] son was diagnosed with homosexuality, I wandered aimlessly and craved death above all things … After aborting the homosexual fetus I became pregnant again. My son is now healthy. I have seen God. I am happy.
It was all insane. It looked like the mindless jabbering of an under-supervised and over-caffeinated 14-year-old with psych issues. None of it was very worth thinking about. Except — for some reason, this particular detonation of nuttery managed to capture the attention of thousands. By the end of last week, when public furor over the troll caused Facebook to can his account, the profile had racked up more than 2,000 comments, and illicited comment from Italian politicians. Paola Tanning, some kind of official with the Democratic Party, threatened legal action against Facebook if the troll's page didn't disappear. Paola Concia, a member of the Italian parliament, publicly expressed solidarity with any gay kids who might have seen the page. And Stoppello Daniel, a famed lawyer who deals with cases of threats and discrimination against gays, told La Repubblica that the Facebook page was actionable:
In my opinion, [the page demonstrates] abuse of popular credulity — Article 661 of the penal code — in which you try to deceive people by promoting scientifically false and completely unfounded hypotheses, exploiting ignorance … We shouldn't underestimate the fact that [the profile constitutes] a public incitement to abortion.