Alejandro Nasif Salum, Secretary for International Relations at LGBT rights group Federación Argentina (FALGBT), sent out the following email yesterday: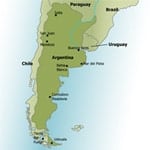 Tomorrow morning, in Buenos Aires, the first inscription of the birth of a baby with two fathers will be done in Argentina. Tobías is a boy who was born a few weeks ago in India after a surrogacy process. He's now arrived to Argentina and both his fathers will be registered with no distinction between the biological one and the other one.
Although Marriage Equality Act states that no difference should be made between children of same or different sex couples, and besides the fact that many birth certificates with two mothers have already been made, it wasn't easy to get to this point as the Civil Registry was at first reluctant to do it, but the work of the Legal Staff of the FALGBT made it possible. I want to recognize my colleagues at that point.
Moreover, a modification to Argentina's Civil Code is being debated in the Congress which would made this kind of registrations standard in all the country. We'll keep you up to date about this process.