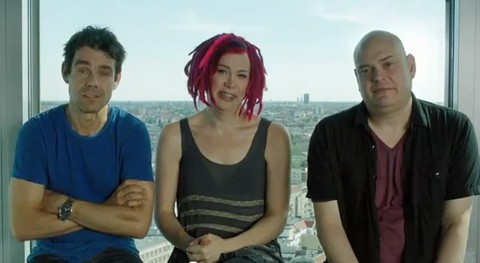 Back in September 2007 I wrote about news of the transition of director Lana Wachowski (formerly known as Larry), who, with her brother, form a filmmaking duo which has been at the helm of movies like V for Vendetta, The Matrix, Speed Racer, and now the forthcoming Cloud Atlas. There were rumored concerns at the time that publicity about Lana's transition would hurt the "family-friendly" film Speed Racer.
The film world is buzzing today about a new clip in which Cloud Atlas director Tom Tykwer appears with both Wachowskis, because the duo's appearance on camera has been extremely rare.
The L.A. Times says of the clip: "Lana [is] also introducing herself — as a woman." Extra is calling the brief chat her "debut as a transsexual." The Huffington Post writes that in the clip Wachowski "has become the first major Hollywood director to publicly come out as transgender."
Watch the filmmakers discuss Cloud Atlas, AFTER THE JUMP…
And if you missed the epic trailer I posted last week, catch it HERE.