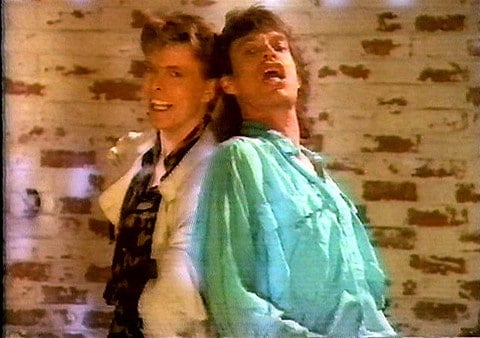 Author Chris Andersen's new book Mick: The Wild Life and Mad Genius of Jagger offers readers tidbits from the Rolling Stone legend's life, including a time in the early 1970s when he and fellow singer allegedly David Bowie allegedly had a long-term affair.
In what appears to be a collection of memories, old lovers and friends recall a brief period when Jagger and Bowie regularly and openly slept together. One former colleague, backup singer Ava Cherry, told Andersen that the men were "sexually obsessed with each other" and then there's the time Bowie's former wife Angie walked in on them naked in bed, sleeping.
But it also seems that the relationship was more than just sex: the men reportedly had a mutual respect and admiration. Cherry told Andersen the men were emotionally intertwined and "practically lived together for several months." Several months many, many years ago, even before the biggest clue that Mick Jagger and David Bowie had a fling: the 1985 video for their rendition of "Dancing in the Streets."
See what I mean, AFTER THE JUMP.