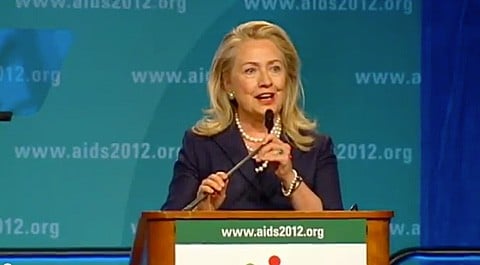 Here are Secretary of State Hillary Clinton's full remarks at the International AIDS Conference yesterday.
Watch, AFTER THE JUMP…
Clinton announced the creation of a "blueprint" to achieve an AIDS-free generation:
For our part, PEPFAR will remain at the center of America's commitment to an AIDS-free generation. I have asked Ambassador Dr. Goosby to take the lead on developing and sharing our blueprint of the goals and objectives for the next phase of our effort and to release this blueprint by World AIDS Day this year. We want the next Congress, the next Secretary of State, and all of our partners here at home and around the world to have a clear picture of everything we've learned and a roadmap that shows what we will contribute to achieving an AIDS-free generation.
She closed by recalling the first time she saw the AIDS Memorial Quilt:
I began today by recalling the last time this conference was held here in the United States, and I want to close by recalling another symbol of our cause, the AIDS Memorial Quilt. For a quarter-century, this quilt has been a source of solace and comfort for people around the world, a visible way to honor and remember, to mourn husbands and wives, brothers and sisters, sons and daughters, partners and friends.
Some of you have seen the parts of the quilt that are on view in Washington this week. I well remember the moment in 1996 when Bill and I went to the National Mall to see the quilt for ourselves. I had sent word ahead that I wanted to know where the names of friends I had lost were placed so that I could be sure to find them. When we saw how enormous the quilt was covering acres of ground, stretching from the Capitol building to the Washington Monument, it was devastating. And in the months and years that followed, the quilt kept growing. In fact, back in 1996 was the last time it could be displayed all at once. It just got too big. Too many people kept dying.
We are all here today because we want to bring about that moment when we stop adding names, when we can come to a gathering like this one and not talk about the fight against AIDS, but instead commemorate the birth of a generation that is free of AIDS.
Now, that moment is still in the distance, but we know what road we need to take. We are closer to that destination than we've ever been, and as we continue on this journey together, we should be encouraged and inspired by the knowledge of how far we've already come. So today and throughout this week let us restore our own faith and renew our own purpose so we may together reach that goal of an AIDS-free generation and truly honor all of those who have been lost.
Watch, AFTER THE JUMP…
Chris Johnson at the Washington Blade has a nice report on the speech.
Here's a full transcript.