And now, carbonated vodka soda.

Indianapolis gay bar may have been targeted in drive-by shooting.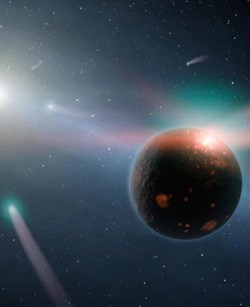 NASA: Storm of comets circles nearby star.

Lindsay Lohan wants to remake Thelma & Louise.

Last week I published a straight Eagle Scout's letter to the Boy Scouts of America turning in his badge. Now, many others are doing so as well.

NOM's latest star, Dawn Stefanowicz, shares horror stories of living with a gay parent. Good As You: "Dawn is taking one story of growing up in a gay-headed household thirty, forty years ago and using it as some sort of cautionary tale against every gay-headed household worldwide."

Posh Spice reportedly blocking efforts at a Spice Girls reunion for the London Olympics Closing Ceremonies.

Daytime naps linked to dementia. "French researchers who looked at results from 5,000 over 65s found the fifth who regularly took long naps scored lower in mental ability tests. Dr Claudine Berr, from the Institut National de la Santé et de la Recherche Médical (Inserm), told the Alzheimer's Association International Conference in Vancouver: "These results suggest that excessive daytime sleepiness may be an early predictor of cognitive decline.'"

Pen pal letter from 21-year-old Morrissey revealed. "I'm unhappy, hope you're unhappy too."

Emile Hirsch to play Navy Seal in Lone Survivor?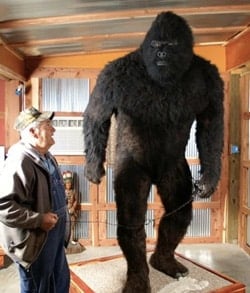 Ever wanted to own a massive model of 'Bigfoot'? Now's your chance.

Mitt Romney Olympic archive still off-limits: "The archivists involved in preparing the documents for public review told ABC News that financial documents, contracts, appointment calendars, emails and correspondence are likely not included in the 1,100 boxes of Olympic records, and will not be part of the collection that will ultimately be made public."

Revealed: The former Bain employees raising millions for Romney.

The dog who will play Sandy in the upcoming revival of Annie on Broadway is a female terrier mix rescued from an animal shelter in Houston: "Save her. I don't care what it costs."

Male model fix: Daniel Bederov.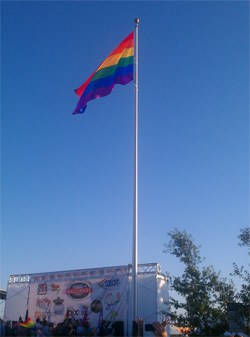 Massive rainbow flag now flies over San Diego's Hillcrest neighborhood.

Gay Scotsman's body found in Brighton, UK: "In the 1970s he decided to move to London where he felt it would be easier to live as an openly gay man. He spent many happy years in Croydon living with his partner Henry until he sadly died in 2001."

Madonna's brother Christopher Ciccone designing line of shoes: "According to a release July 19, Ciccone will be hosting bespoke installations in London, Paris, Prague, Toronto, New York, Miami and Los Angeles to launch the brand."

Salon: The tightrope of gay PDA. "I can't really remember the exact circumstances of when I first held a man's hand in public. The emotions that preceded it have all faded, along with the person, in the ensuing years. What I do remember, throughout the five or so minutes that I grasped that boy's moist palm, is anxiously searching every face around us, every person that passed us by, checking for any sign of potential trouble or disapproval. The simple act itself — of taking my date's hand — seemed less a simple sign of affection than an open dare to voyeurs, an exercise in what my grandmother would have called 'making a spectacle of yourself.'"