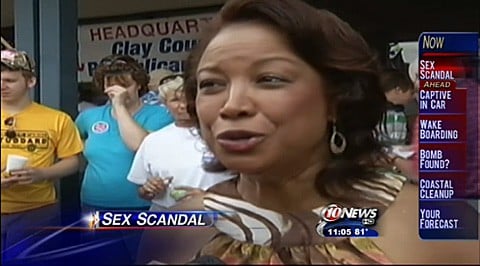 Florida Lt. Governor Jennifer Carroll has apologized for remarks she made to a reporter following a question about allegations that a former aide walked in on an intimate moment between Carroll and another woman, GLAAD reports.
Said Carroll to the reporter:
"The problem is that when you have these accusations that come out, it's not just one person you're attacking. It's an entire family. My husband doesn't want to hear that. He knows the type of woman I am. I mean, my kids know the type of woman I am. For twenty-nine years – I'm the one that's married for twenty-nine years. The accuser is the one that's been single for a long time. So usually black women that look like me don't engage in relationships like that."
Now she has apologized in a letter to Nadine Smith at Equality Florida:
"I would like to take this opportunity to express my sincerest apologies to anyone I may have offended with my recent comment. It is wrong and inexcusable to make a comment that hurts people, and that was not my intention. As a Christian, my faith guides me to love and respect all people. The false charges that have been lodged against me are no excuse for what I have said that may have been hurtful to members of your organization and to other Floridians. Please know that I am committed to treating every person with the utmost courtesy, respect, and dignity and I hope you will accept my heartfelt apology."