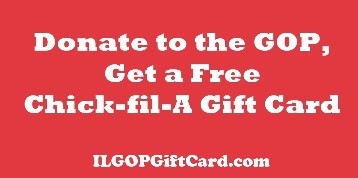 The Illinois Republican Party is fundraising off the Chick-fil-A controversy in response to Chicago Alderman Joe Moreno's attempts to block the restaurant from opening in his ward.
Writes the group on a special website set up for donations:
If the recent insults by Barack Obama against business owners and a 67% Illinois tax hike by Mike Madigan weren't enough, Obama's fellow Madigan-backed Chicago Democratic politicians have stooped to a new low in trying to silence a business owner, Chick-fil-A, by trying to block their business license simply for expressing a political opinion that they disagree with.
Whatever your opinion is on the issue itself, it's a dangerous precedent for the government to deny a business license to a company simply for taking a political stance that a politician disagrees with.
But given the anti-entrepreneurial record of Barack Obama, Mike Madigan and most Democrats, we're really not surprised.
That's why the Illinois Republican Party will give a $5 Chick-fil-A gift card to each person who donates $10 or more to the Illinois Republican Party between now and September 1.