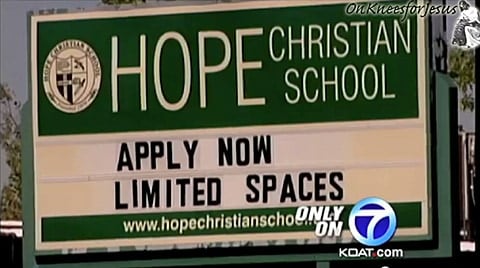 A Christian school which accepts federal funding has rejected a 3-year-old from attending because the prospective student's parents are gay, KOAT reports:
Action 7 News got a copy of the letter that Hope Christian School sent to the family.
It says in part: "Same gender couples are inconsistent with scriptural lifestyle and biblical teachings," and "Home life doesn't reflect the school's belief of what a biblical family lifestyle is."
The letter also says since the school is private, it is free from "excessive government interference in matters of religion."
The school will receive more than $60,000 in federal tax dollars this school year. That money will be used for educator professional development, according to the state's Public Education Department. The school qualifies for that money under federal guidelines.
"We don't think agencies that discriminate or use religion to discriminate should be receiving our federal or government funds," said Peter Simonson with the ACLU.
Watch KOAT's report, AFTER THE JUMP…