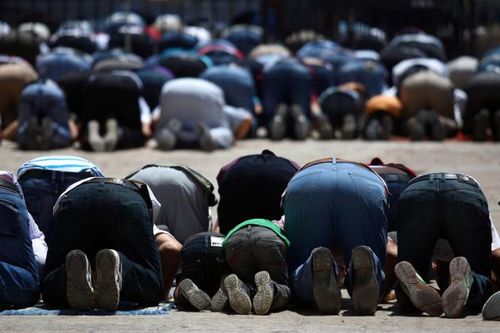 Happy Ramadan to you! Sadly, it will be a sweaty and restless Ramadan in Indonesia, the world's most populous Muslim country, for Indonesian Information Technology Minister Tifatul Sembiring shall attempt to eliminate the viewing of online porn during the holy month:
"As this is the Ramadhan fasting month, we need to strengthen our efforts," … Sembiring told reporters at a press conference at the ministry on Wednesday. 

Tifatul, known for his antics such as claiming he was "forced" to shake the hand of US First Lady Michelle Obama during a visit to Jakarta, said that the crackdown would focus on local Internet service providers (ISP).
The viewing of porn is always illegal in Indonesia, thanks to the 2008 Pornography Law — which outlawed both pornography and "pornoaction," which may include kissing one's spouse, wearing bikinis, or the baring of a lady's shoulder — but, according to The Jakarta Post, porn is especially dangerous during Ramadan:
[According to Ashwin Sasongko, the "director for informatics applications" at the Communication and Information Ministry,] the crackdown was launched for the benefit of Muslims, who were expected to refrain from sexual intercourse during daylight hours during Ramadhan, among other things.

"We are responsible for protecting the younger generation from consuming destructive pornographic content on the internet," Ashwin said.

"This is really important especially ahead of Ramadhan. We hope that Muslims can fast peacefully," Ashwin added.
At least one million pornographic websites have been blocked in Indonesia so far. There are at least one million more to go, according to te Communication and Information Ministry, though their math may be untrustworthy — the Ministry also claims to have received "at least" 100 million complaints about online pornography in the last year, which equals rather a lot of Indonesians Googling pages they don't want to see. (The year before, the Ministry reported just over 800 such complaints.)
The Global Post notes that some Indonesians have been unable to resist porn's evil allure, including at least one Indonesian in Tifatul Sembiring's own political party:
… Tifatul's views are significantly more conservative than the norm in Indonesia, where voters have time and again offered only scant support to his fundamentalist Prosperous Justice Party … Last year, a parliamentarian with the party resigned after fellow lawmakers caught him watching porn on his mobile phone.
The Jakarta Post notes a Google report that Indonesia ranks third in the world in internet users seeking pornography, behind only China and, for some reason, Turkey.