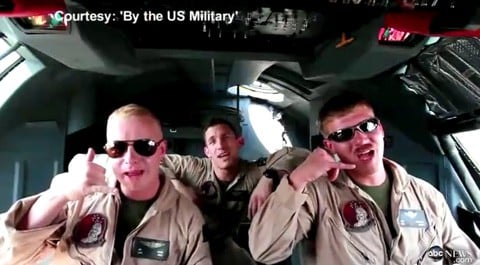 It's not over yet, folks.
Raum and his longtime friend Randy Moresi, both employees with the nonprofit United Service Organizations (USO), came up with a plan. They were going to ask the service members on base to do a group lip-dub, to the tune of Jepsen's mega-hit.
The idea was to show troops in a more positive, light-hearted way, away from the controversies that have dogged the U.S. mission for the past several months. In February, for instance, U.S. troops "mistakenly" burned copies of the Quran at a U.S. base near Kabul, setting off nationwide protests and riots that left dozens dead. A month earlier, a leaked video online showed Marines urinating on Afghan corpses.
"It's a side of the military that you don't get to see," Raum says of the project. "Showing the human side on the other side of the rifles is a great opportunity."
Watch, AFTER THE JUMP…