Hundreds of people turned out to an impromptu vigil in Lincoln, Nebraska last night after news spread quickly of a horrific hate crime against a woman in her own home which took place early Sunday morning.
Watch a news report from KLKN TV, AFTER THE JUMP…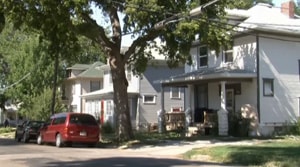 The Journal Star reports:
The woman said she was attacked early that morning by three masked men who barged into her house, bound her wrists and ankles with zip ties, cut her all over her body and carved homophobic slurs into her skin before dumping gasoline on her floor and lighting it with a match, said a friend who spoke to the Journal Star.
The friend said the woman crawled from her house, naked and bleeding and screaming for help before reaching the doorstep of a neighbor's home. Late Sunday, police said they still were investigating the case and had yet to release an account of what they believe happened inside the home.
The City Fire Inspector confirmed that a fire had been started in the woman's house but had failed to spread.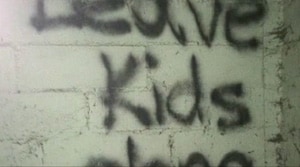 The Omaha World Herald adds:
[Capt. Jim] Davidsaver said the victim's description of the suspects was limited because of the masks. When police arrived, the house was still on fire, the captain said. He said it caused about $200 in damage. Davidsaver would not say what words the men carved into the woman's skin. "We need to maintain the integrity of the case," he said.
But Erin Thompson of Lincoln, who described herself as the victim's best friend, said she got a call from her friend about 6:30 Sunday morning. The friend asked Thompson to pick her up from the hospital.
"They carved on me," Thompson said her friend tearfully told her.
Thompson said three epithets, including the word "dyke," were carved on the woman's arms and stomach.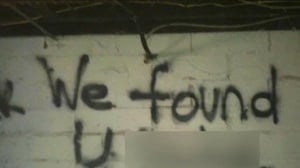 KLKN TV adds:
Friends add the men who assaulted her also spray painted anti-gay words in her basement. Friends say they think this was a hate crime because the woman assaulted is a lesbian.
"When someone takes the time to hand cuff someone with a zip tie and carve derogatory comments or words into somebody else's body, that's sheer hate and at this point, this is a hate crime."
Police say the woman ran to her neighbors house for help. We spoke to the neighbor, who says she also believes this was a hate crime. She also doesn't want her identity revealed to keep the victim anonymous.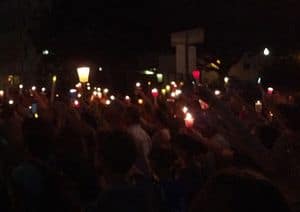 A Facebook vigil was announced and had been shared hundreds of times before an event Sunday night attended by hundreds:
The woman's account of the attack drew outrage from a gay and straight-allied community already galvanized by this month's Star City Pride Festival as well as debate over the city's so-called fairness amendment, a proposal to ban discrimination in housing and employment based on a person's sexual orientation or gender identity.
The City Council approved the measure, but petition gatherers recently obtained enough signatures to put the measure up for a public vote. The earliest the amendment will appear on the ballot is November.
A Facebook group has also been formed.
Police are still searching for suspects and have not made any arrests.
LGBT issues have been in the headlines in Lincoln recently with the passage in May of an LGBT anti-discrimination ordinance. Anti-gay activists have gathered enough signatures to put the measure up for a vote in November, with the support of Nebraska's governor Dave Heineman, who says that anti-bias laws against LGBT people should be put up to a popular vote.
Watch a news report from KLKN TV, AFTER THE JUMP…
Video may take a few seconds to load…