Dan Savage and his "It Gets Better" producing team have announced a new documentary project that will examine openly LGBT candidates as they run for office, The Victory Fund reports: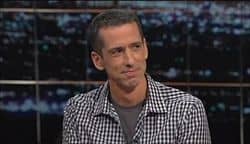 LGBT politicians and political hopefuls attend Victory's Candidate and Campaign training, a boot camp aimed at preparing candidates for every aspect of political life. Trainees learn necessary skills and strategies by engaging in realistic campaign situations. Victory has granted the producers unprecedented access to these trainings.
"The stories of LGBT candidates and elected officials have been at the forefront of this movement for decades, and still today out officeholders are crucial leaders in our fight for equality. We look forward to partnering with this talented team of producers and filmmakers to lift the veil on how these men and women learn to run and win," said Chuck Wolfe, Victory's president and CEO.
"This is uncharted territory," says Dan Savage, the co-founder of the It Gets Better Project. "We're seeing progress on LGBT issues, but in order to effect real change, representation in government is essential. Aspiring LGBT candidates face a unique set of hurdles on the way to political office. The goal of this project is to follow a number of LGBT candidates, and highlight Victory's groundbreaking approach to help them win."
(via gay politics)