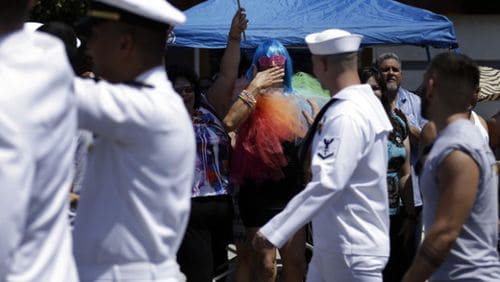 The unprecedented appearance of uniformed military personnel in yesterday's San Diego Pride Parade was much appreciated by spectators along the route, according to the AP:
Some of the loudest cheers Saturday at San Diego's gay pride parade were for active-duty troops marching in military dress, the first time that U.S. service members participated in such an event while in full uniform.

Dozens of soldiers, sailors, and Marines marched alongside an old Army truck decorated with a "Freedom to Serve" banner and a rainbow flag.
From the LA Times:
A crowd estimated at 200,000 whistled, waved, cheered and applauded as the service members walked the parade route through the city's largely gay neighborhood of Hillcrest, ending at the western extension of Balboa Park. All branches of the military were represented.

Some in the crowd waved tiny flags; others shouted, "Thank you for your service!" Some saluted.
As Andy explained last week, this will probably be the last time anybody gets to witness such a thing. Generally, all service members are barred from wearing their uniforms during civilian parades. The Pentagon made a one-off exception because the parade's organizers had requested that military personnel don their uniforms, and nobody wanted to see good, patriotic paraders penalized for doing as they were asked. Military personnel will typically appear at parades in tee-shirts denoting their military branch.
Which is fine — except, man, there's really something special about seeing the full dress uniform. Check out that pic above, from the AP (whose slideshow from the parade is excellent, and viewable here). There's a lot of dignity and sweetness captured in the interaction between the waving sailor and that lovely blue-haired gentleman, and the uniform seems essential.