Police on Monday said they have no suspects in the horrific hate crime in which three men in ski masks targeted a Lincoln, Nebraska woman in her own home, carved "dyke" into her stomach and attempted to light her house on fire, the Journal Star reports: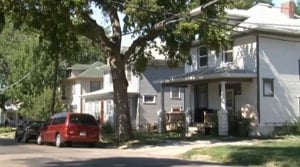 The woman told police three masked men came in but gave no further description, Lincoln Police Officer Katie Flood said. Investigators have no suspects.
Police said Monday they still were investigating the case but declined to release details of what they think happened. If police zero in on suspects, investigators want details about the crime to come from their memory, not from what they've read or seen in the media, Flood said.
"We don't want to provide too many details," she added.
The paper adds:
The victim has lived in her house six years, according to neighbor Linda Rappl. The woman mowed neighbors' lawns, raked leaves and helped Rappl shovel snow.
"(The attackers) only saw a small part of who she was," Rappl said.
CNN reports that the woman is out of the hospital and staying in an emergency shelter.