NYC City Council Speaker Christine Quinn is urging New York University, which rents space to the city's only Chick-fil-A restaurant, to kick the franchise off its campus because of its support for anti-gay causes.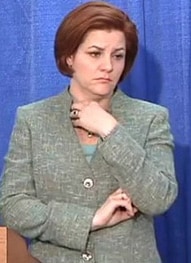 Says Quinn, in part, in a letter sent today to NYU President John Sexton:
NYC is a place where we celebrate diversity. We do not believe in denigrating others…As you know from recent press coverage, the President of Chick-fil-A continues to make statements and support causes that are clear messages of extreme intolerance and homophobia and a belief that LGBT Americans are less than others and deserve to be treated as such.
Let me be clear — I do not want establishments in my city that hold such discriminatory views.
I urge you to sever your relationship with the Chick-fil-A establishment that exists on your campus. This establishment should be replaced with an establishment where the ownership does not denigrate a portion of our population.
Quinn's full letter, AFTER THE JUMP…
Quinn's move comes a day after NYC Mayor Michael Bloomberg told reporters that it's "not government's job" to block businesses based on their political beliefs.
However, it's unclear how Chick-fil-A's position might fare under the auspices of a university that strives not to discriminate on the basis of sexual orientation.
Quinn has also started a petition on Change.org demanding Chick-fil-A President Dan Cathy apologize and change his position.