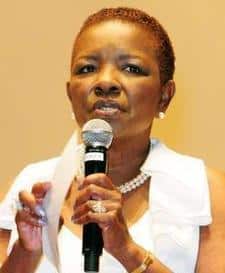 Shirley Gibson, the mayor of Miami Gardens, Florida, who is running to be Miami-Dade County's next Commissioner, has some new political allies: the anti-gay Christian Family Coalition.
Miami New Times reports:
Despite the Christian Family Coalition's regular habit of hurling hate-fueled messages towards the LGBT community and tirelessly working to strip gays of even the most basic rights, spineless local politicians desperate for any vote continue to legitimize the group by courting its members.

Miami Gardens Mayor Shirley Gibson is currently running to unseat incumbent Miami-Dade County Commissioner Barbara Jordan, and over the weekend accepted the group's endorsement. In return, she promised to "review" Miami-Dade's human rights ordinance that protects gays from discrimination.
According to Steve Rothaus at The Miami Herald, Gibson, a Democrat, said she "wouldn't initiative" a repeal, but that "she would seek a cost review of Miami-Dade County's human rights ordinance." That ordinance was passed in 1998.