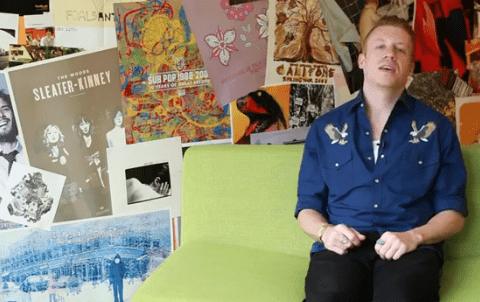 Macklemore, the Seattle-based hip-hop artist born Ben Haggerty, is using his aural talents to support marriage equality in Washington State.
First there's his latest track, the down-tempo, soulful "Same Love," in which he and singer Mary Lambert lament conservative and hip-hop cultures' fostering of homophobia and admonish their reliance on stereotypes that have nothing to do with innate sexuality.
And then there's Macklemore's testimonial for Music for Marriage Equality, a coalition with which Death Cab for Cutie's Ben Gibbard and Tegan from Tegan & Sara have worked.
In that video, Macklemore describes how his gay uncles helped open his eyes to equality. "I grew up with two gay uncles on Capitol Hill and i was always around a community of gay people and it's something that, as a hip-hop artist, it's still a taboo issue," he said. "That's still the group of people that it's okay to oppress… That's discouraging and that's something that needs to change."
He also discusses anti-gay attitudes among hip-hop communities in a blog post about "Same Love":
…Intolerance of the gay community in hip hop is widespread. The best rappers will use homophobic language on albums that critics rave about, making hip hop and homophobia inextricably linked. We have sidestepped the issue entirely, become numb to the language that we use, and are increasingly blinded to our own prejudice.
…
I am not saying that intolerance is exclusive to hip hop. Hip hop culture is a part of American culture, and America can be scared, fearful, and prejudiced against its own. My intent is not to scrutinize or single out hip hop. It happens to be the culture that has profoundly shaped me, and the one I feel most accountable to.

Hip hop is influential to young people, and frames the mindset of the generation that will decide how inclusive and accepting we are.
Listen to "Same Love" and watch Macklemore's video AFTER THE JUMP.